Pokémon Go, Kanye West clothing and the Olympic Refugee Flag - exhibition designed by Carmody Groarke. 
18 October 2017 – 28 January 2018
the Design Museum, London
Pokémon Go, IKEA furniture, the Olympic refugee flag and Wolfgang Tillmans' Remain Campaign; the Design Museum in London announces the contenders for the tenth edition of Beazley Designs of the Year. The annual exhibition and awards, supported by specialist insurer Beazley, comprises 62 nominations across six categories: Architecture, Digital, Fashion, Graphics, Product and Transport. Selected by a panel of distinguished international designers, curators and creatives, the awards showcase the most original and exciting products, concepts and designers in the world today.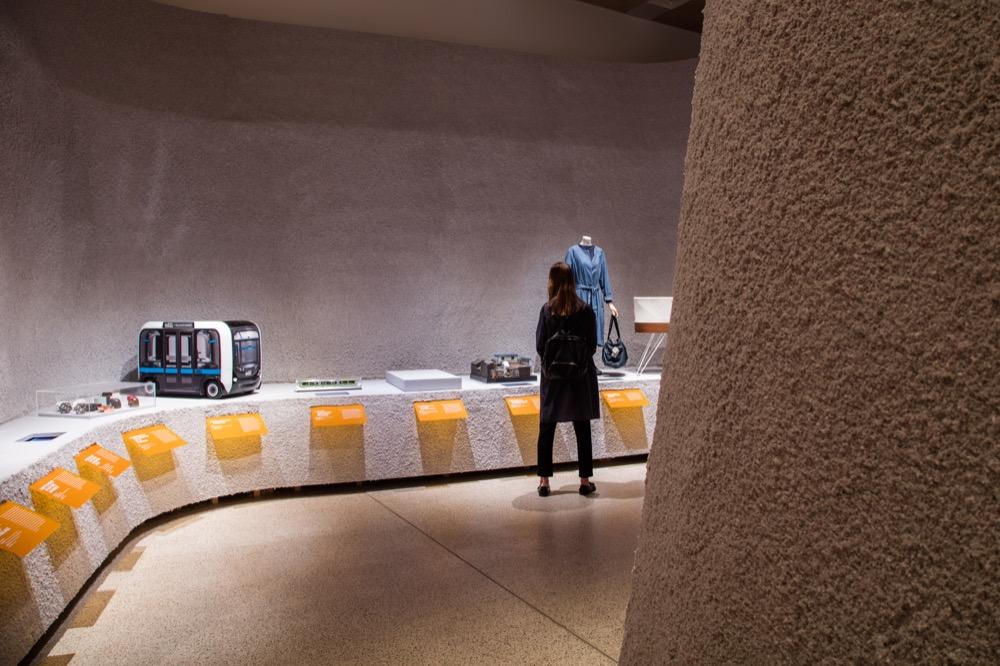 Award-winning architectural practice Carmody Groarke has designed this year's exhibition environment. It takes the shape of a sequence of sculptural cave-like forms, made from a sprayed paper pulp called Soundcel. The assertive materiality of the gallery was a response to the exhibition design brief, which specified a powerful spatial experience that would act as a strong counterpoint to the diversity of the nominated designs. The existing gallery is completely abstracted into a series of amorphous spaces, blending continuously into one another. Rather than using conventional exhibition walls and plinths, the angled and curved spaces are covered entirely in the recycled newspaper material, smothering over the sculpted ledges and recesses that display the work. Soundcel, which is usually spray-cannoned onto building construction and structures to provide insulation, provides a beautiful, monolithic and cast-like quality to the exhibition spaces and makes for a low-fi contrast to the innovation and technology of the exhibition content. 
Opening 18 October, this year's nominees include a hijab designed by Nike and a clothing line by Kanye West for his Life of Pablo tour, both included in the Fashion category. Pokémon Go, the augmented reality mobile game, was a global sensation in July 2016 and has earnt a nomination in the Digital category. The recently knighted Sir David Adjaye has been nominated in the Architecture category for his National Museum of African American History and Culture in Washington D.C and DixonBaxi's TV graphics design for the English Premier League, with an estimated viewer reach of 4.7 billion people worldwide, claimed a Digital nomination.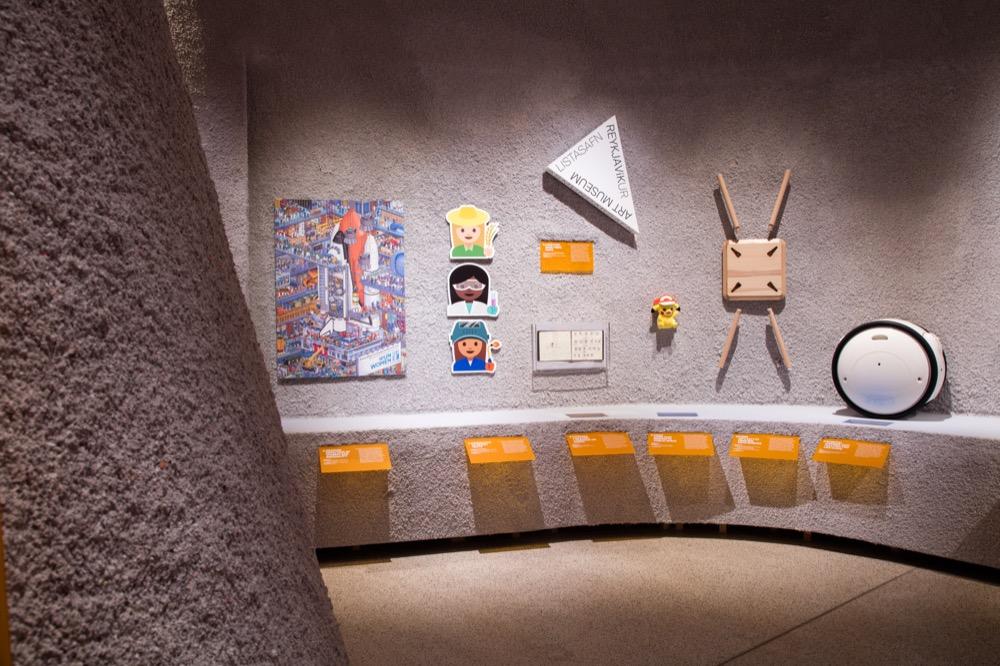 Activism and protest has proven to be a strong theme in the nominations over the past year and projects in the award shortlist include the Pussyhat made and worn in protest of President Donald Trump's sexist remarks, Wolfgang Tillmans' Remain Campaign for the Brexit referendum and IC4Design's Finding Her, a Where's Wally-style advertisement highlighting low levels of gender equality in Egyptian professions. Other nominations include Me & EU by Nathan and Sam Smith, a collection of postcards written and designed by UK-based creatives to be sent across Europe as a means to remain connected post EU-referendum; professional women emoji designs for Google and Forensic Architecture - an interactive 3D recreation of a Syrian torture prison constructed from the memories and descriptions of survivors.
Better Shelter, a flat-packed refugee shelter created with IKEA, was named the Beazley Design of the Year in 2016 and this year has seen further designs that attempt to raise awareness and improve the lives of those impacted by global displacement. The Avy Search and Rescue Drone designed to rescue refugees in danger whilst travelling across the Mediterranean Sea; the Refugee Nation Flag for the Olympics designed for the first ever Olympic refugee team and the Calais Builds Project, providing short-term structures and infrastructure, are just some of the nominations in this year's awards. 
The Architecture category features some of the most established practices in the world today including Zaha Hadid Architects for their Antwerp Port House, Serpentine Pavilion designer Francis Kéré for his Lycée Schorge Secondary School and OMA's Il Fondaco Tedeschi development in Venice, Italy.
The Digital category includes Google Noto, a collaborative project that has led to the creation of a free, single typeface which can be used for over 800 languages.
Aitor Throup's New Object Research 'The Rite of Spring/Summer/Autumn/Winter' has earnt a Fashion nomination. His runway show during London Collections: Men presented the highly-anticipated New Object Research collection on six life-size articulated sculpted puppets. Other nominations in the Fashion category include a collaboration between Levi Strauss & Co. and Google Inc. developing interactive textiles.
Graphic nominees include the new branding for Wales Nation Brand and the Protest Banner Lending Library, a space where people can gain skills to make their own banners.
The Product category includes the world's first translating earpiece, Remolten – a furniture line made from molten lava – and ink made from air pollution.
The Transport list completes the six categories and includes Olli, the world's first 3D printed self-driving bus, Scewo, a stairclimbing mobility device, a self-balancing motorcycle by Honda that reduces the chances of falling and space age water taxis designed by SeaBubbles that clean and create energy from the waterways they use. Also included is a new intersection road system developed by Carlo Ratti at MIT that could replace traffic lights. The conceptual traffic system would enable driverless vehicles to travel through intersections without colliding, eliminating the need for traffic signals.
Sketches, models, physical pieces, videos and photography will be on display for all nominations and will provide a snapshot into the exciting world of design. Combining the world's most established talent alongside graduates and rising stars, Beazley Designs of the Year provides a rare moment to experience a diverse selection of industries, objects and technologies in one exhibition. 
A winner will be selected in each category and one overall winner will be announced on 25 January 2018. Previous winners have included the 2012 Olympic Torch, the Heydar Aliyev Centre by Zaha Hadid and Human Organs-on-Chips, a micro-device lined with living human cells to mimic the complex tissue structures of the human body. 
Beazley Designs of the Year will be on display from 18 October 2017 to 28 January 2018.
source: press release
---
---

Ha tetszett a cikk, és szeretnél előfizetni magazinunkra, itt teheted meg.